How an Orthopaedic Mattress Helps in Solving Back Pain Issues


Back pain is a common health problem that affects people of all ages and backgrounds. It can be caused by a variety of factors, including poor posture, improper sleeping positions, and the wrong type of mattress can have a significant impact on the quality of your sleep.
When you experience pain while lying down, you are less likely to fall asleep easily. Even if you do manage to fall asleep, the pain can cause you to wake up frequently throughout the night. This can lead to poor sleep quality and result in fatigue, irritability, and difficulty concentrating during the day.
Furthermore, when you are unable to get a good night's rest due to back pain, your body may not have enough time to repair and rejuvenate, which can affect your overall health and well-being. Chronic sleep deprivation has been linked to a variety of health issues, including high blood pressure, depression, anxiety, and weight gain. 
Choosing the right mattress, such as an orthopaedic mattress, can help to alleviate back pain and improve your overall sleep quality. By properly supporting your body and relieving pressure points, an orthopaedic mattress can help you fall asleep faster and stay asleep longer, allowing your body to fully rest and recover.
In this blog, we shall go over the features of an orthopaedic mattress and how it supports your back like no other.
How is An Orthopaedic Mattress Different From a Traditional Mattress?
An orthopaedic mattress is different from a normal mattress in several ways. First and foremost, it is specifically designed to provide extra support to the body's musculoskeletal system, which includes the spine, joints, and muscles. These areas are sensitive and tend to become sensitive as you age, so it's important to treat them with care when you sleep. This type of mattress is engineered to promote proper alignment of the spine and reduce pressure points, which can help to alleviate back, neck, and joint pain. 
Orthopaedic mattresses are typically made with highly resilient foam which provides better support and durability compared to traditional spring mattresses. They also have a firmer feel than regular mattresses, which helps to distribute weight evenly and reduce pressure on the back and joints. 
In a nutshell, orthopaedic mattresses find the sweet spot between firmness and contouring, so you feel a strong support to your back, that doesn't compromise on your comfort, or sink when you toss and turn in your sleep.
Why Should You Choose the Best Orthopaedic Mattress For Your Back Pain?
Let me guess what you're thinking. You think all mattresses have all these attributes. Not really. Our HiGRID Ortho Essential Mattress is the best orthopaedic mattress made with SmartGRID technology and is specially designed by tens of experts, based on research and experiments. Our Japanese patented technology is a hallmark feature that offers superior comfort to the sleeper and allows for up to 4-6 degrees cooler temperature by allowing free air circulation. 
Every layer, from the surface to the core, has been designed keeping in mind the posture, comfort and pressure points of a person with severe back pain. Through years of research, we have brought out the finest orthopaedic mattress that adapts to suit your posture, cradles you gently, and allows for any sleeping position, all while easing pressure off your major pressure points. 
Let's break down our orthopaedic mattress (well, figuratively) and look into what makes it ideal to solve your back pain issues. Each layer is designed for a unique support function and collectively, they cradle you while you sleep and ease your back pain. Here are the essential features you need to look for when buying an orthopaedic mattress.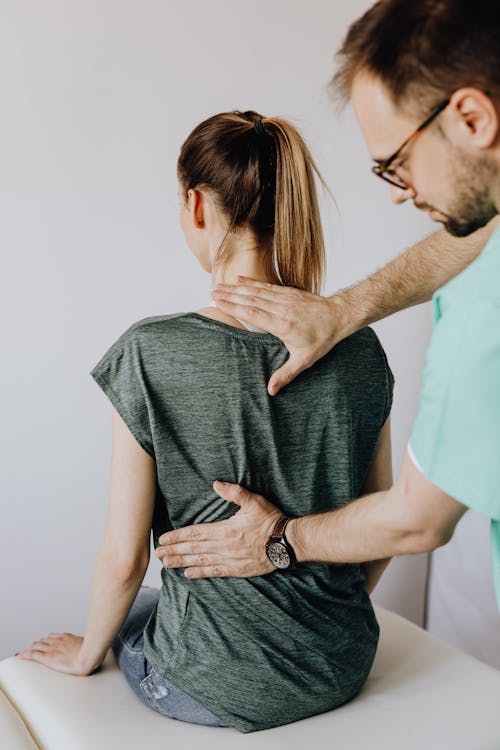 Exceptional Lumbar Support
The SmartGRID technology in the HiGRID Ortho Essential mattress is made up of a grid of hyper-elastic polymer columns that are designed to provide a dynamic, adaptive sleeping surface. 
They are typically arranged in a grid pattern, which allows them to move independently and adjust to the user's body shape. When pressure is applied, the columns compress and flex, providing a personalised level of support that conforms to the user's body. This helps to alleviate pressure points and reduce discomfort, especially in the lumbar region.
The columns are also designed to be more rigid in areas where more support is needed, such as the lower back, and more flexible in areas where less support is needed, such as the shoulders and hips. This unique design helps to provide targeted support where it is needed most, which can be especially beneficial for individuals with chronic back pain.
Firm Yet Soft
The Japanese patented technology used in the HiGRID Ortho Essential mattress enables it to even out pressure so that there's no stress or pain in any particular body part, which otherwise would cause discomfort. 
This means that when pressure is applied to the mattress, the columns compress and flex in response, providing a personalised level of support that conforms to the sleeper's body shape.
Despite the adaptable design of HiGRID mattresses with the SmartGRID technology, they are still firm, supportive and ultra soft. This is because the hyper-elastic polymer columns and the highly resilient foam are designed to maintain the shape and support properties of the mattress over time. The LuxioTech layer of the mattress is designed with advanced sleep technology that gives the unrivalled softness to the mattress, makes you feel like you're floating, doesn't pull you down like other mattresses and provides an incredibly soft surface that can lure you into deep sleep in a short while.
Moreover, this layer also isolates motion, which gives you undisturbed sleep even if your partner tosses and turns often. You don't have to wake up every time your partner turns and you struggle to get back to sleep again.
Another astounding feature of the HiGRID mattress is its ability to maintain its shape over time. Unlike traditional foam materials that can degrade and lose their supportive properties over time, hyper-elastic polymer columns used in the HiGRID mattress are designed to maintain their shape and support properties for many years.
Breathable Layers
One of the key features of the HiGRID mattress with SmartGRID technology is the presence of 2500+ air channels, which are designed to provide exceptional ventilation and temperature regulation. 
The air channels work by allowing air to flow through the mattress, which helps to dissipate body heat and prevent the buildup of moisture and humidity. By allowing air to flow through the mattress, the materials are less likely to break down and degrade over time, which can help to extend the lifespan of the mattress.
Even when you sleep on your stomach and breathe into the mattress, you won't feel suffocated, as the cover is made of eco-friendly materials such as cotton and viscose that allow air to pass through easily. Moreover, the materials are also hypoallergenic, meaning that they ward off infections and allergens that may accumulate in the mattress and cause irritation. They also absorb sweat and body fluids so you have a clean, soft and warm surface to sleep on. You can also remove the cover and wash it easily without losing any of the mattress' properties.
Sturdy Core
The sturdy core of a SmartGRID mattress is made up of a high-density foam layer that is designed to provide a stable base. This foam layer is typically around 5-6 inches thick and is made from high-quality foam that is both supportive and durable.
The foam core provides several key benefits to the SmartGRID mattress. Firstly, it helps to distribute your weight evenly across the surface of the mattress, which can help to reduce pressure points and prevent discomfort and pain. Secondly, it provides a stable foundation for the hyper-elastic polymer grid, which allows the grid to work effectively in providing dynamic support and comfort to you. 
Finally, it helps to improve the overall durability and lifespan of the mattress by providing a strong and sturdy base that can withstand the stresses and strains of regular use.
Choosing the
HiGRID

Ortho Essential Mattress

Now that you're all caught up on how HiGRID's Ortho Essential orthopaedic mattress can help in solving your back pain issues, you need to know how to go about it. Visit the official website and go through the specs of the Ortho Essential mattress. You may consult with your physician if required. For a ton of back-friendly features, the HiGRID Mattress is priced pretty reasonably and is loved by people all over the world.

Go ahead, place the order and watch the finest orthopaedic mattress reach your doorstep in record time, with absolutely no shipping charges. Enjoy unparalleled comfort and deep sleep for 200 nights, and if you feel the mattress doesn't suit you, you may return it or replace it for free! Once you like our mattress, you can relish its benefits for a decade!
To Sum Up
Restful sleep is fundamental to smooth mind-body functioning. Don't allow your back pain to deprive you of sleep. Bring home UK's first and only HiGRID mattress with SmartGRID technology, that makes the mattress as soft as feathers, so you can restore your health, solve back pain issues, improve posture, breathe freely, stay allergy-free and enjoy a dreamy experience for years to come. 
Vasantha Priya
Vasantha Priya is a freelance content writer by day and a poet by night. She specialises in research-backed, long-form content for B2B & B2C brands. Vasantha strikes a chord with readers and drives action by establishing trust, thought leadership and authenticity. Apart from writing, she's an English tutor and OD consultant. She also has an undying love for chocolates and sunsets.