How Does Your Partner's Sleep Pattern Impact The Quality Of Your Sleep?


How Does Your Partner's Sleep Pattern Impact The Quality Of Your Sleep?

But have you ever stopped to consider how your partner's sleep routine might be impacting your own precious shut-eye? 
Whether you're blissfully sharing a bed with your significant other, navigating the tumultuous waters of a roommate situatio n, or even spending the occasional night with a friend or family member, the dynamics of sleep can be surprisingly intricate. 
From the symphony of snores to restless tossing and turning, your partner's sleep habits can create a ripple effect that either lulls you into dreamland or keeps you tossing and turning until the wee hours.
By the end of this blog, you'll have a deeper understanding of the intricate dance between sleep patterns and the immense impact they can have on your overall sleep quality.
The Intertwining Sleep Patterns
Sharing a bed means sharing more than just the physical space; it means sharing sleep cycles, movements, and habits. When your partner's sleep pattern differs significantly from your own, it can disrupt your sleep and leave you feeling groggy and irritable. 
Sleep experts call this phenomenon "social jet lag," which occurs when your sleep-wake schedule conflicts with that of your partner.
For example, if you are a morning person and prefer to sleep and wake up early, but your partner is a night owl, preferring to stay up late and rise later in the morning, conflicts can arise. 
Your partner's late-night activities might disturb your sleep, and their eventual awakening could wake you up prematurely.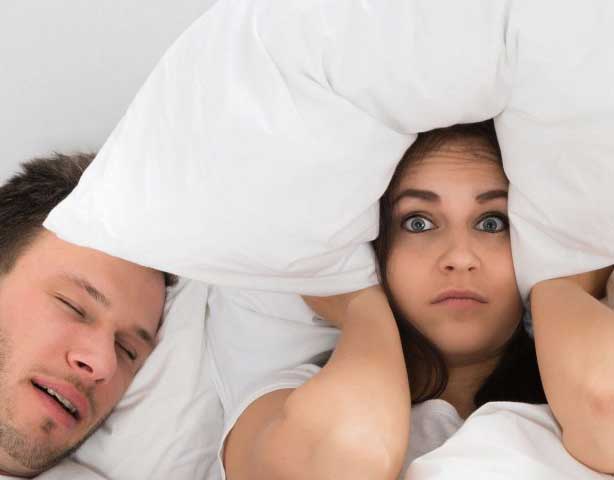 Common Problems with Sharing a Bed
Apart from differing sleep patterns, there are several other challenges that can arise when sharing a bed. Let's explore some of the most common problems couples encounter:
Movement Disruption
Many people experience disturbances when their partner moves or shifts during the night. 
Restless tossing and turning, frequent changes in sleep positions, or getting in and out of bed can cause disruptions that prevent you from achieving deep, uninterrupted sleep. 
This is a common problem couples face when living together and is further aggravated if a partner falls asleep immediately after hitting the bed and the other doesn't.
Temperature Differences
We all have our preferences when it comes to bedroom temperature. 
If you and your partner have different temperature sensitivities, finding the right balance can be challenging. 
One may prefer a cooler environment, while the other may require additional warmth, leading to discomfort for both parties.
Snoring and Sleep Apnea
Snoring can be a significant sleep disruptor. If your partner snores loudly or suffers from sleep apnea, their breathing pauses during sleep can wake you up or prevent you from falling asleep altogether.
Mattress Bounces Too Much During Intimate Acts
If you share your bed with a romantic partner, it's possible that your mattress either moves vehemently or bounces a lot during sex, ruining the mood and causing body aches for both of you. 
You need a mattress that supports free movement and protects you from sinking or bouncing too much. This is possible with excellent pressure dissipation, motion isolation and edge support. 
Bedding and Pillow Preferences
The type of mattress, pillows, and bedding you prefer may differ from your partner's preferences. 
Finding a compromise that accommodates both of your needs can be tricky, and unsuitable bedding choices can affect your sleep comfort.
SmartGRID Mattresses: The Solution for Slumber
Imagine a sleep solution that adapts to your individual needs while ensuring undisturbed rest for both you and your partner. 
Enter SmartGRID mattresses, a revolution in sleep technology that offers a multitude of benefits.
Motion Isolation & Edge Support
SmartGRID mattresses utilize advanced materials designed to absorb and isolate movement, reducing the impact of your partner's nocturnal activities. Whether they're tossing, turning, or getting in and out of bed, the grid-like structure restricts movement to their side only, and isolates movement so you won't be disturbed. 
During intimacy, you can stay focused without having to worry about falling off the mattress or straining any body part excessively.
Temperature Regulation
SmartGRID mattresses feature 2500+ air channels that help regulate temperature, providing a comfortable sleep environment for both warm and cool sleepers. 
Enhanced Support
The unique grid-like structure of SmartGRID mattresses provides optimal support and pressure relief, catering to different body types and sleep preferences. 
Whether you prefer a plush feel or firmer support, the SmartGRID adapts to you, offering personalised comfort.
Conclusion
Sharing a bed with your partner can be a wonderful experience, but it can also present challenges that impact the quality of your sleep. However, with the advent of SmartGRID mattresses, you and your partner can achieve undisturbed sleep and wake up refreshed and revitalised. 
By addressing issues such as motion disturbance, temperature differences, and personalised support, these mattresses ensure a harmonious slumber for both individuals.
Get superior-quality sleep at 45% off. Head to
HiGRID - The Sleep Company
and order now.
Vasantha Priya
Vasantha Priya is a freelance content writer by day and a poet by night. She specialises in research-backed, long-form content for B2B & B2C brands. Vasantha strikes a chord with readers and drives action by establishing trust, thought leadership and authenticity. Apart from writing, she's an English tutor and OD consultant. She also has an undying love for chocolates and sunsets.